March 26, 2016 at 12 noon
Rocking Chair Experience IX: "SISTERS OF THE MILITARY"
Featuring ROCKING CHAIR STORYTELLERS:
Zaneta Adams, Esq., Karen Cole Johnson, Ronda Libbett, & Edna Stewart
Springhill Suites - 5250 28th St. SE, Grand Rapids, MI
(Near Costco behind Target). Lunch will be served. For more information, call (616) 243-2963.
SPONSORED BY: Grand Rapids Club of The National Association of Negro Business and Professional Women's Clubs, Inc.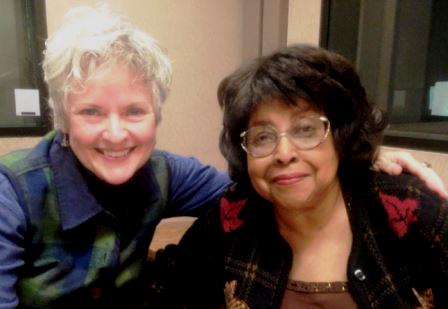 Jo Ellyn Clarey and Yvonne Sims in the WGVU Studio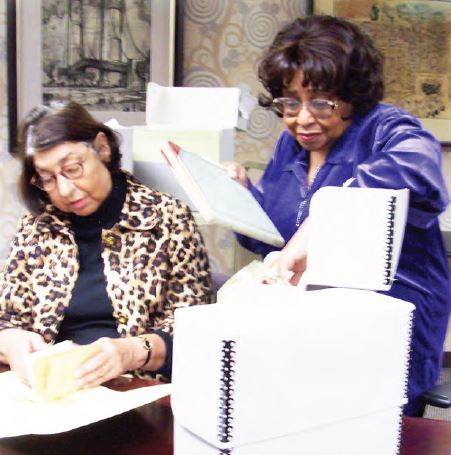 Shirley Miles and Yvonne Sims review the GRSC archives in anticipation of the Feb. 11th event (photo courtesy of The Grand Rapids Times)
January 29, 2016 - The Grand Rapids Times Center Page feature: Sims, Clary To Tell Story of Early African American Women in Grand Rapids.
February 8, 2016 - On the WGVU Morning Show Shelley Irwin spoke to Yvonne Sims and Jo Ellyn Clarey about a educational program focused on 1890s Grand Rapids' African American women featuring the Grand Rapids Study Club and the Greater Grand Rapids Women's History Council. Listen in!
February 11, 2016 - "Community Builders: Early African American Women in Grand Rapids" presented by Yvonne Sims & Jo Ellyn Clarey

Co-sponsored by the Grand Rapids Study Club,
the Greater Grand Rapids Women's History Council
& the Grand Rapids Historical Society

7 p.m., Thursday, February 11, 2016
John F. Donnelly Conference Center at Aquinas College

In the late 19th century African Americans in Grand Rapids were organizing societies--literary, charitable, and fraternal. As early as 1889, the local African Methodist Church organized their "literary thinkers" to form a literary society consisting of both men and women. The New Ideal Literary Society was fundraising in 1893 and the United Sisters of Benevolence in 1890 elected officers and appointed committees, including a Relief Committee and a Festival Committee. The Ladies Benevolent Aid Society planned a funeral and buried a local woman who had no relatives here. The Thurman Union, a local African American chapter of the national Woman's Christian Temperance Union, was formed in the fall of 1893. Its president, Emma Ford, addressed the full Kent County WTCU convention in 1899. The Married Ladies Nineteenth Century Club, later called the Nineteenth Century Club, not only studied issues of the day, but publicly protested racist editorials in the newspapers. All of this information was duly reported in Grand Rapids newspaper articles.
For over 25 years the Greater Grand Rapids Women's History Council has underwritten efforts dedicated to rediscovering and crediting the rich past of area women, including the history of the societies of Grand Rapid African American women and the contributions they made to this city. Join members of the Grand Rapids Study Club, the Women's History Council, and the Grand Rapids Historical Society on February 11 and be introduced to such 19th century women as Emma Ford, Mary Roberts Tate, or Mary Buckner Craig, to name only a few.
The activities of these African American women were recorded in local newspapers in the new "Club Women" columns reporting on the numerous literary and benevolence societies forming among diverse groups of women in the city. While subject matter varies, all the groups seem to have followed similar meeting formats, including displays of musical talent or dramatic readings by members or members' daughters, items of club business, papers presented on issues of the day followed by discussion, and, of course, refreshments.
Yvonne Sims, winner of a Giants Award in 1986 for community service, has helped lead such significant community events as the Forum on Violence, while pursuing a career as teacher and administrator in the Grand Rapids Public Schools. She has served as a Lifestyles columnist for the Grand Rapids Times and has invested in projects of the Grand Rapids Study Club, ensuring that the club kept "rowing, not drifting" into the 21st century toward its goals of bettering the community. Her historical programs and oversight of club archives have been a major addition to local women's history.
By profession a literary scholar, Jo Ellyn Clarey taught at a variety of academic institutions before entering the world of local women's history. She has helped document the achievements of lost women and forgotten events, including those representing early African American women in Grand Rapids. She received the annual Albert Baxter Award in 1999 in local history, and has served on the boards of the Greater Grand Rapids Women's History Council, the Grand Rapids Historical Society, the Grand Rapids Historical Commission, and organized women's history research and programming statewide and nationally.
The photo appeared in the Grand Rapids Times announcing the plans to release this new local report:
The (Im)Possible Goal: Rowing, Not Drifting, toward Cultural Unity in Grand Rapids, Michigan
---
Contact:
grcommunityvoice@hotmail.com
Grand Rapids Study Club Members in October 2006
(courtesy of the Grand Rapids Times):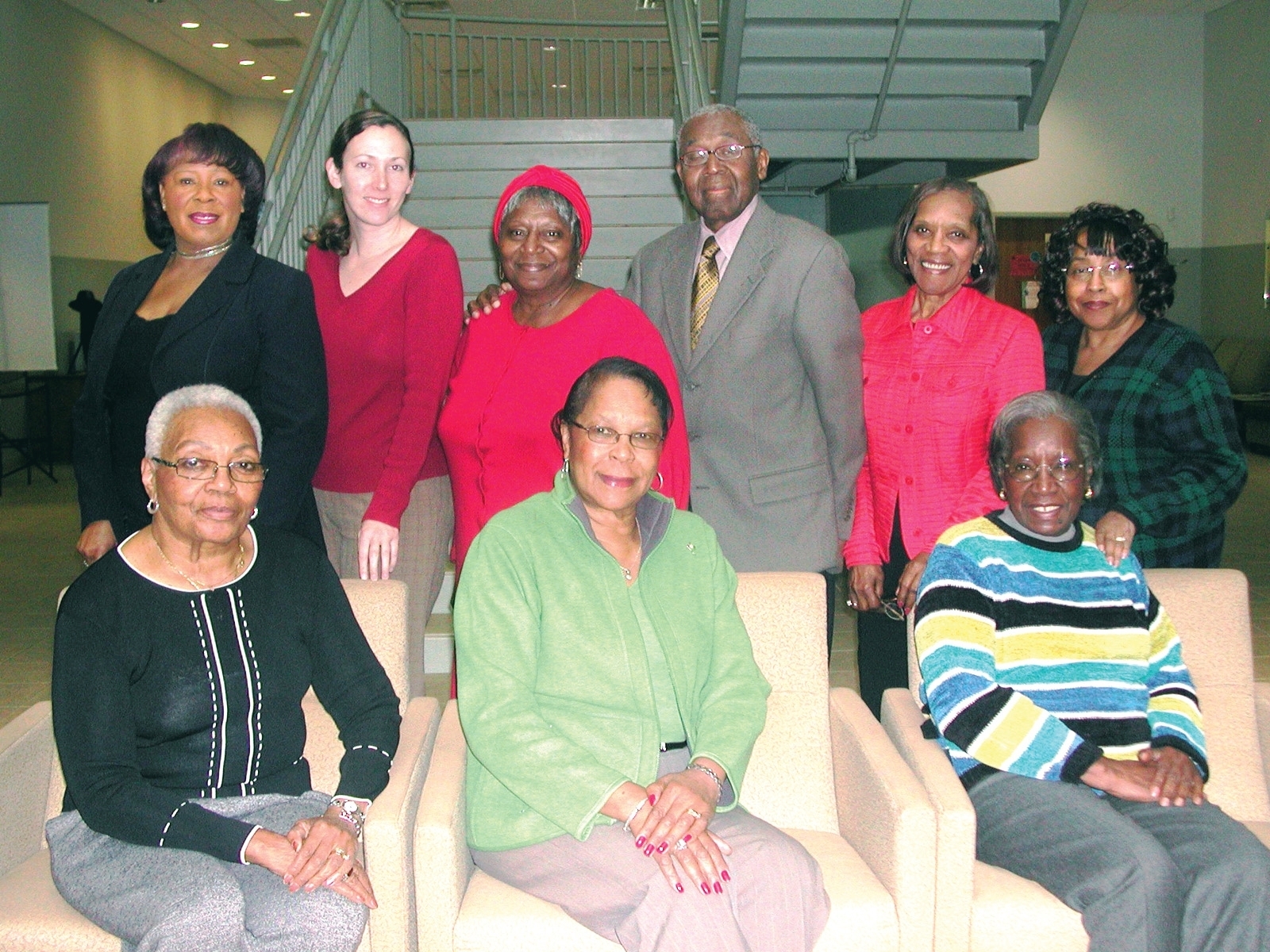 Shown seated from left to right are Shirley L. Daniels, L. Helen Johnson and Dolly Burleson; standing Birthale Archie, Liz Keegan, Bessie Ward, Jacob Robinson, Delores Robinson and Yvonne Sims. Not pictured: Ronnie Van Buren, Ellen James, Anita Watson-Phillips, Betty Posey, Vernell Allen, Dr. Ella Sims, Dr. Joseph Daniels, Dr. Eugene Sims and Dr. Patricia Pulliam.